For students

&nbsp
Bachelor and Master thesis in EC

Experimental investigation of mechanical, thermal and hygric properties of building materials
Experimental investigation of structural elements
Analysis and experiment in the field of concrete, steel and timber structures


For more information, please, do not hesitate to contact anyone from the department



International Visegrad Fund Experience
I spent two semesters as the Visegrad scholar in Experimental Center at Czech Technical University in Prague. The primary goal of my research project was to explore an experience of utilizing the ultra-high performance fiber reinforced concrete in European building industry, investigate its mechanical properties, principal specificities and advantages.
Working in the laboratory of Experimental Center gave me valuable experience of experimental investigation of the mechanical characteristics of the ultra-high performance concrete (a number of tests were carried out within the framework of the project) and the numerical modeling of the experiments using ATENA software. The team of Experimental Center supported me greatly and always treated me friendly. I am sincerely grateful for their encouragement.


Anastasiia Bielovolova
International Visegrad Fund Scholar, 2012/2013 academic year
Faculty of Civil Engineering, Donbas National Academy of Civil Engineering and Architecture, Ukraine

&nbsp
IAESTE Experience
Being an IAESTE trainee this summer gave me the opportunity to work with the Experimental Center at the Czech Technical University in Prague. My main task was to search the database in order to provide my colleagues with background information about their new project, which deals with the deterioration of building materials under environmental actions. Moreover, I got the chance to participate in the Lab work twice a week to mix high performance concrete. I liked working in the Lab; I have been introduced to the practical field of concrete in a fun and enjoyable way.
I am really glad I have chosen Prague to do my internship because I got the chance to meet amazing people, like my colleagues. They are very friendly, fun to hang out with, and interesting to talk to. I got to learn a lot from them. Last but not least, the city of Prague is just wonderful. So many beautiful places that you have to visit one everyday. Also you can travel around to nearby cities easily since the bus tickets are cheap. I fell in love with Praha and I'm hoping I'll get the chance to go back soon. I am grateful for this unique experience; this whole summer was amazing. I recommend anyone who is going to Prague for an internship to sign up with the Experimental Center of CTU.


Talina K. Zeidan
IAESTE Exchange student at the Czech Technical University in Prague, Summer 2012
Departement of Civil and Environmental Engineering, American University of Beirut, Lebanon

&nbsp
---------------------------------------------------

I spent three great months working in Experimental Centre at Czech Technical University in Prague. My job was to model concrete beams with numerical software called Červenka Atena in order to find dependence between reinforcement ratio and load positioning on the beam. Second thing I did, was designing, building and testing the composite concrete bridge model, which will also be an assignment for students this semester (summer semester 2012). Work was very self-initiative, educative and creative. I had a lot of freedom with designing the bridge, what also made one special experience.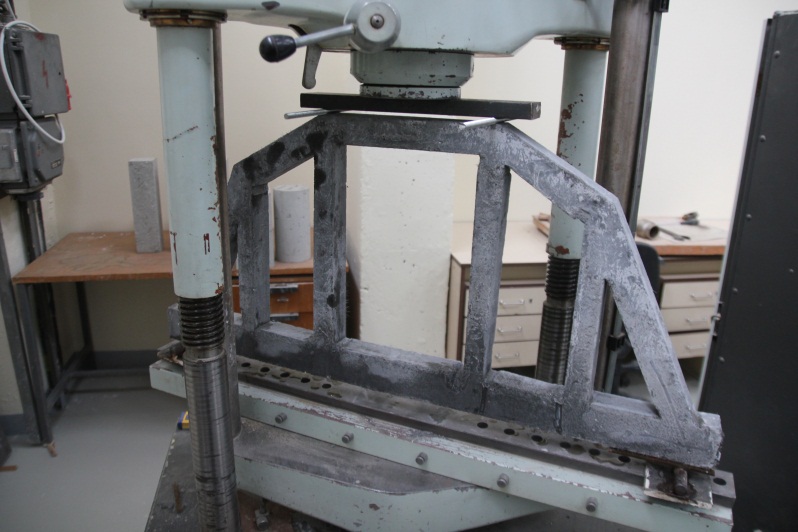 I have to say, that staff at Experimental Centre was very kind, helpful and friendly. It was my pleasure to work with such young and promising team. I learned a lot about concrete behavior, concrete mixtures and team work and I think the international experience is also great reference for your future career. So do not hesitate and join Experimental Centre team for an internship, I think they would gladly accept you for a few months or longer.


Gašper Lužar
IAESTE Exchange student at CTU Prague, autumn 2011
Faculty of Civil Engineering, University of Ljubljana, Slovenia

&nbsp
---------------------------------------------------

Following an ERASMUS exchange at the Czech Technical University in Civil Engineering in Prague, I have been incorporated in the Experimental Center for an internship of two months.
My mission was the preparation of samples and data evaluation. I also have developed a MatLab program in order to prepare the data process (Average, smooth, data reduce). The friendly relationship with colleagues was very pleasant and nice. The Experimental Center provides all you need to work well and easily. Plus, this foreign experience has been very useful to meet and discuss with very remarkable peoples. It will be a great pleasure to have future collaboration.
The Experimental Center made me know how work a laboratory of Civil Engineering and thanks to all the staff, I learnt new thinks about concrete structures and mixtures (the theory and also the practical). I want to advice students to come in Prague at the Experimental Center, for a semester or a longer period and work with this young and dynamic team.


Jean-Philippe SELLIN
Erasmus student in CVUT in Prague, spring 2011
Ecole Centrale de Nantes, France

&nbsp